DSTV, OVHD & StarSat Installer In Cape Town
Cape Direct Connect is an accredited satellite dish installer in Cape Town. We are a DSTV Installer In Cape Town, Top TV Installer In Cape Town & OpenView Installer. We provide expert installation services covering the whole of the Western Cape.
DSTV Installer In Cape Town
Cape Direct Connect provides expert professional DSTV Installation services in Cape Town. We have a team of expert DSTV Technicians who will come and to install and setup DSTV services for you. We can come and install DSTV equipment which you have already purchased or we can with our own equipment and install the DSTV for you. We have various DSTV Installation Packages for clients who prefer having the convenience of having a DSTV Installer source everything for them.
Cape Direct Connect is a 24/7 DSTV Installation & Repair Company servicing Cape Town and the whole of the Western Cape. This means that we can have a team of DSTV Installers on site in Cape Town at any given time of the day or night. One of the advantages of having Cape Direct Connect install your DSTV is that you will rest assured that you will have uninterrupted viewing without having any Signal Issues on your DSTV.
Cape Direct Connect will install DSTV for you be it you have 1 TV or you are looking to set up multiple DSTV decoders through ExtraView. Call Us Now On 082 233 1115
and Repairs In Cape Town Covering  The Whole Western Cape
DSTV Triple View Installer Cape Town
Cape Direct Connect has been installing DSTV Triple View/XtraView in and around Cape Town. DSTV unveiled this feature which enables users to link up to 3 different decoders to one subscription allowing you to view 3 different channels at the same time. DSTV currently charges an additional R90 per month per decoder to access this service.
Compatible Decoder For DSTV TripleView Installation
DSTV Triple View installation can only be done with either a HD Single View or Xplora Decoder. Unfortunately if you do not have one of these decoders then you will need to get a compatible set of DSTV decoders in order for us to successfully install and setup TripleView/XtraView for you. If you happen to have an old decoder, Cape Direct Connect Offers certain DSTV TripleView Installation Packages with come with compatible decoders. We also offer TripleView Installation In Cape Town which includes a Satellite Dish if you don't already have one.
Compatible LNB For TripleView Installation
One of the most important factors also when it comes to TripleView Installation is your LNB. You need to have a smart LNB in order to have uninterrupted viewing on all your TV sets. Others might argue and say that they have set up multiple viewing on different TV's without having upgraded their LNB. That kind of setup requires the use of switches and there is a lot of wiring involved. If you have a household with kids, a lot of wires around kids can lead to accidents. Cape Direct Connect advises the use of a smart LNB when it comes to TripleView Installation In Cape Town
Below Are Some Of Our DSTV Installation Packages In Cape Town
DSTV HD Extra/Dual View Installation
2 HD 4U Decoders 

Standard Wall Mount Bracket 

15M Cable,

Twin LNB

2 DSTV Remotes
DSTV HD 4u Installation
1 HD 4U Decoder,

Standard Wall Mount Bracket

10M Cable

1 DSTV Remote
DSTV HD 4U Full Installation
1 dstv HD 4U 

Standard 80cm Dstv Dish 

Standard Wall Mount Bracket

Smart LNB

20M Cable 

2 DSTV Remotes
HD DSTV Explora Extra/Dual View Installation
2 DSTV Explora Decoders

Standard 80cm Dstv Dish 

Standard Wall Mount Bracket 

20m Cable 

Smart LNB 

2 DSTV Remotes
HD DSTV Explora Full Installation
2 DSTV Explora 

Standard 80cm DSTV Dish 

Standard Wall Mount Bracket 

DSTV Installation To 1 Point 

15m Cable 

Smart LNB

1 DSTV Remote
Top TV Decoders Installation
Standard 80cm Dish

Standard Wall Mount Bracket 

15m Cable 

Single LNB

Remote Control
Ovhd OpenView HD Full Installation
1 OVHD decoder 

Standard 80cm Dish 

Standard Wall Mount Bracket 

15m Cable 

Single LNB

Remote Control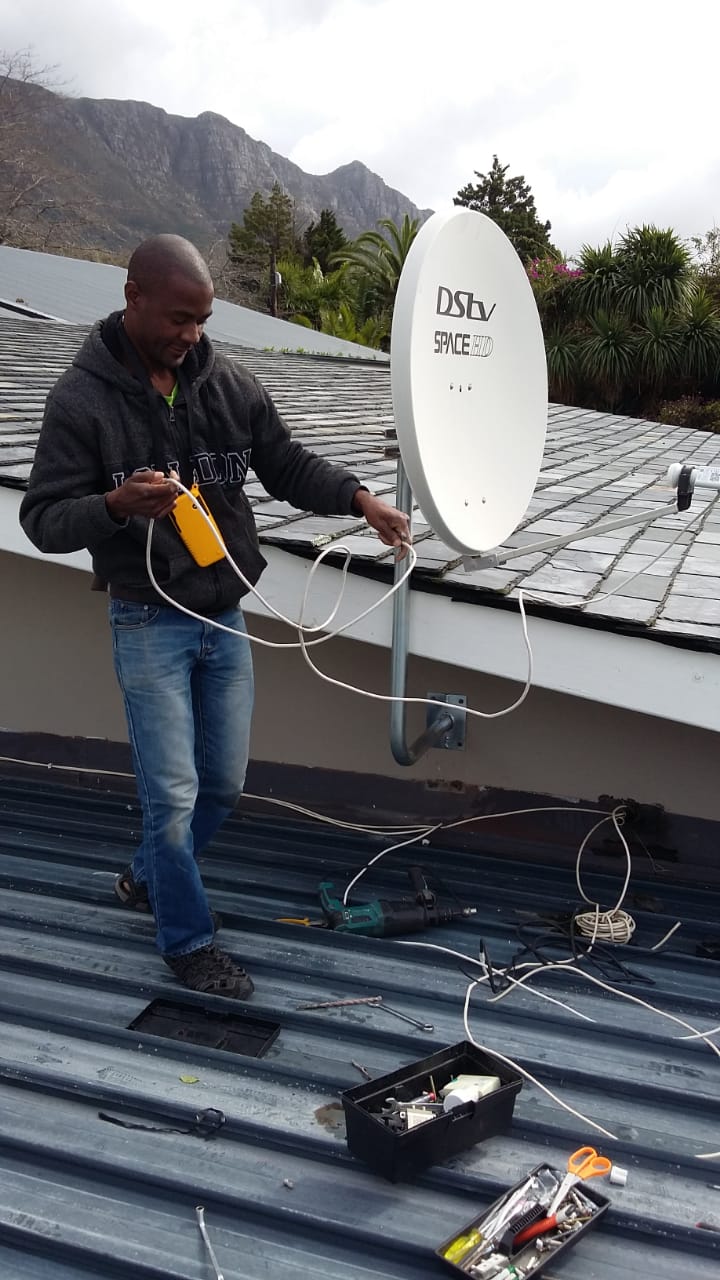 DSTV Installation And Repairs Services We Offer
DSTV Single Point Installations In Western Cape

DSTV Installation Repairs In Western Cape

DSTV Upgrades In Western Cape

DSTV Extra-View Installations  In Western Cape

DSTV Triple-View In Western Cape

DSTV Signal Repair In Western Cape

DSTV Multi-Point Installations In Western Cape

DSTV Multi-Unit Dwelling Installations In Western Cape

DSTV Relocation In Western Cape

DSTV LNB Upgrades And Repairs In Western Cape

OVHD Single Point Installations In Western Cape

OVHD Installation Repairs In Western Cape

OVHD Upgrades In Western Cape

OVHD Signal Repair In Western Cape

OVHD Multi-Unit Dwelling Installations In Western Cape

OVHD Relocation In Western Cape

OVHD LNB Upgrades And Repairs In Western Cape

TopTV Single Point Installations In Western Cape

TopTV Installation Repairs In Western Cape

TopTV Upgrades In Western Cape

TopTV Signal Repair In Western Cape

TopTV Multi-Unit Dwelling Installations In Western Cape

TopTV Relocation In Western Cape

TopTV

LNB Upgrades And Repairs In Western Cape