How To Fix DSTV Signal Issues Related To E48 -32 Signal Not Found
After having a long day at work and all you want to do is relax and watch TV only to be faced with the SIGNAL NOT FOUND E48-32 Error message, or maybe it's the weekend and the kids wake you telling you that the TV is broken and when you finally drag yourself out of bed to see what they are talking about, you are greeted with a floating message on your TV saying SIGNAL NOT FOUND. Or maybe yours is the case whereby you can view certain dstv channels during the day, but when you try to watch those same channels at night you get E48-32 Error message. Whatever your situation is, we have a solution on how to fix your Signal Strength on DSTV
In this article, I will be talking about the root causes as to why you are not getting any signal on your DSTV decoder. This is an error message that you get on certain decoders and depending on the various factors which has caused the DSTV E48-32 Error Message, it could either be temporary due to rain or permanent due to a faulty connection caused by an unqualified DSTV installer. Whatever the reasons may be, we are here to help you so that you can enjoy uninterrupted viewing on your DSTV decoder without having signal problems again.
Rain Causing The DSTV E48-32 Error Message
Believe it or not, in this day and age if it is raining, it may cause signal issues on your DSTV decoder. It doesn't have to be raining in your area, let's say it is raining in Johannesburg, this can also affect your DSTV signal as the DSTV studios are in Johannesburg.Rain tends to affect both the upload and download speeds thus impacting the signal strength.
What Can I Do To Fix DSTV E48-32 Error Message Caused By Rain
As I previously said that rain severely affects the quality of the signal being transmitted from the DSTV studios to your home. There are a couple of things one can do to improve the signal they receive when it is raining.  Install DSTV Approved 90CM Satellite Dish.  DSTV recommends installing the 90cm satellite dish to get the best HD reception. By installing a 90cm DSTV satellite dish, this greatly improves the signal you get when it is raining. 
It is important that you get someone who knows how to install the 90cm DSTV satellite dish. Getting someone who doesn't know to install your dstv will only add more problems. So if you decide to change or upgrade your DSTV satellite dish to improve the signal strength and reduce the chances of getting the E48-32 DSTV error caused by rain, Get in touch with us for an obligation free quote on your DSTV installation In Cape Town.
If on the other hand you are someone who is more hands on and you have the tools to make sure you have the DSTV dish set to get the best reception, then you can find multiple places online selling the 90cm DSTV satellite dish.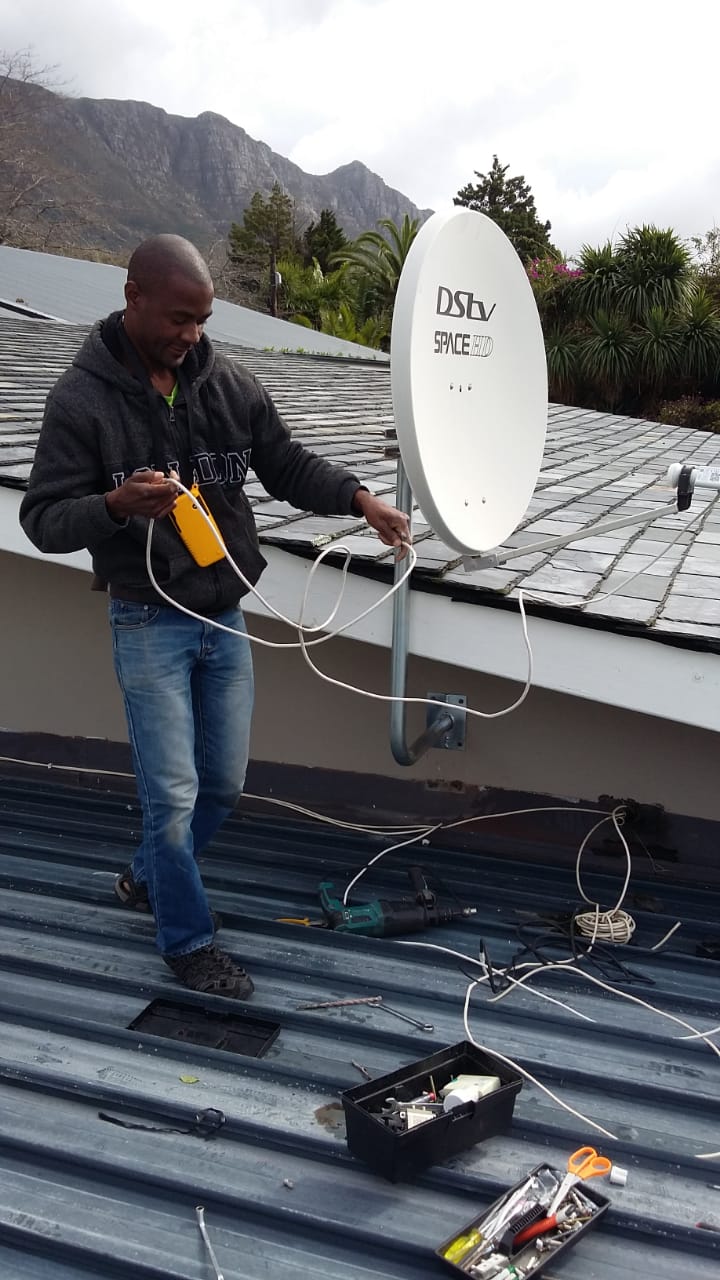 Getting E48-32 No Signal Error Message At Night
Yours might be a case that others might find hard to believe whereby you are able to view certain channels all day but at night you get the E48-32 Error message. Even confusing you as well, and you try to read up online in forums to find out what the root cause maybe because anyone who has ever dealt with the DSTV technical team knows how it is a nightmare as no one seems to have a solution for your problem.
So what causes this problem you might ask, well there are a host of issues to go through however it all boils down to human error, nature or old equipment.
Human Error Causing E48-32 Error On DSTV
Even an accredited DSTV installer is bound to make mistakes. One can argue that they had a professional DSTV company come and install their DSTV satellite dish and decoder. One of the most common human error which causes signal loss on DSTV decoders at night is that because content is reflected
DSTV E48-32 Error Message Caused By Plant Growth
As we all play our part in reducing the impact of global warming by protecting the plants that we have, in the event that these plants overgrow they will impact the quality of the signal that you receive.
To check and see if the E48-32 Error Message is being caused by overgrown plants, all you need to do is to check if there are any plants obstructing your DSTV satellite dish. If that is the case then in some cases clearing the plants will fix this problem. However there have been cases whereby after clearing the plant growth which caused your DSTV decoder to lose signal and display the E48-32 Error message then it means your DSTV satellite dish needs to be realigned and configured as it might have been moved by the plant growth.
In the event that you can't have the overgrown plants cut down or moved, the other solution will be to have your DSTV satellite dish moved to another position which will be free from obstructions. There have been cases as well when the plant growth has caused damage to the LNB thus requiring a new LNB to be replaced. If you had plant growth obstructing your DSTV satellite dish and you have cleared the obstruction but you are still experiencing signal problems? 
We are available 24 hours a Day 7 Days a week. We have qualified DSTV technicians on call waiting to assist you. Call us now and we will come and fix your signal issues on DSTV.
DSTV E48-32 Error Message Due To New Buildings
If your dstv signal issues started because of a newly constructed building. Your best solution is to move the decoder to a new position where it won't be obstructed by the building. 
If you need assistance in moving your satellite to a new position, then get in touch with us as we are available 24/7 to assist you
DSTV E48-32 Error Message Due To Bad Workmanship
Getting someone who is not qualified to install satellite dishes can leave you with more headaches. The E48-32 DSTV Error Message can be as a result of poor workmanship. So how can you tell if you are having this problem because the previous DSTV installer took you for a ride? Below we have listed things you can look at to determine if you are having DSTV signal problems due to unscrupulous DSTV installer.
Skew LNB
If your LNB is not set properly, it will cause the dish to get low signal quality. There is a unit called Bit Error Rate (BER), the higher the BER is, the poor your signal strength is. BER is measured by sophisticated equipment which we have. Some so called DSTV installers do not have the right equipment to measure all the variables to ensure uninterrupted viewing experience. The LNB on a DSTV satellite dish needs to be set at a specific angle. 
A skew LNB on your DSTV decoder can cause an issue whereby you are able to view certain channels but can't access certain channels which are part of your DSTV subscription. There have also been recorded cases whereby one can access certain channels at certain hours but you start having DSTV signal issues?  This can be as a result of a skew DSTV Satellite Dish LNB. Lucky for you, we have a team of highly specialized DSTV technicians 24/7 covering Cape Town and the whole of the Western Cape. We guarantee you the peace of mind of never having your DSTV experience interrupted by signal issues. 
In the next insert, we will continue on from where we have left on. Remember that we are available 24 hours a day 7 days a week and we serve Cape Town and the whole of Western Cape with any and all of your DSTV Installation and DSTV Signal problems.
Related Posts
If you enjoyed reading this, then please explore our other articles below: