All Digital TV set up and Servicing Solutions in Western Cape!
CDC provides expert DSTV Installations and repairs company serving clients in and around Cape Town with all your DSTV related issues from DSTV Installation, DSTV Extra View Installation, DSTV Signal Related Problems, DSTV Upgrades, Installation Of Outdoor Aerials, Dish Relocation Service,  Clear E48-32 DSTV Error Message since 2005. By making use of our services you are guaranteed to have peace of mind. We provide our DSTV Installation and Repair services to schools, universities, residential, commercial, guest houses, hotels, complexes, apartments and communes.
Satellite DISH Installations
With more companies providing satellite tv services in South Africa from DSTV to Open View, We offer expert satellite dish installation in Cape Town. Whatever your needs might be to have a satellite dish installed, we are the leading DSTV Installation experts in Cape Town since 2005. By making use of our services you are guaranteed to have an uninterrupted connection as we have mastered the art of satellite dish installation in Cape Town. Professional Triple View Installations 
DSTV has made it possible to view up to 3 different channels at the same time from the same subscription. We have installed DSTV Triple View in Cape Town at Guest Houses, Hotels, B n B's, and homes with multiple rooms with multiple TV's. We cover the whole of Cape Town with our DSTV Triple View Installation Services
Communal DISH installations In Cape Town
We offer Communal Dish Installation, Maintenance and Upgrade services in & around Cape Town. This idyllic set up is suitable for communes and prevents you from installing too many  satellite DISHES. Whatever your need maybe, Cape Direct Connect has a qualified DSTV Technician on hand waiting to assist efficiently and professionally. 
In 2017 Multichoice unveiled DSTV Over Fibre  system aimed at communal complexes and apartments mainly whereby there is a single dish to receive the signal which then sends that signal to separate homes using an existing Fibre Optic Line without impacting the download speeds of the fibre line. It is very important to note that the DSTV Over Fibre service is currently available to users who have the DSTV Explora Decoders & Single View HD Decoders.  Did you know that if you have a DSTV Premium Subscription, you also get the Showmax Streaming Service Included and you can make use of DSTV's CatchUp service. Users on other packages who have compatible decoders can still sign up for a 14 Day Free Showmax Trial.
Using this service does not affect your internet speed at all. 
DON'T CALL US, WE'LL CALL YOU
Fill in the form below to request a callback to discuss your DSTV Needs.

Nothing sucks more than having connection related issues with your DSTV decoder when you have paid for your subscription. What makes it even worse is when DSTV tells you that you need to call a technician to come and fix the issue for you. Fret not, Cape Direct Connect is here to sort out all your DSTV Connection & Reception Problems. Our qualified technicians are available 24 hours a day In and around Cape Town to serve you making sure that you enjoy your tv shows.
By using the services of an accredited Dstv installer Cape town, your decoder will be tuned into the correct Dstv frequency our professional Dstv installation in Cape town suburbs specialists will restore your signal strength, and get your picture up and running in no time 
Accredited Dstv Installer In Cape Town
Banking on Jacob Zuma's expert counting skills as part of a strategic company restructuring process is a plan to fail, so why should you expect less from your DSTV Installer or DSTV Repair In Cape Town. Cape Direct Connect is an Accredited DSTV Installer in Cape Town. By making use of our DSTV Installation and Repair services, you have the peace of mind knowing that you have qualified specialist working on the installation or repair of your dstv.
At Cape Direct Connect we specialize in DSTV Installations In Cape Town, DSTV Repairs In In Cape Town, DSTV Connection Issues In Cape Town, DSTV Extra View Installation Services In Cape Town, DSTV Triple View Installation In Cape Town and DSTV Cable Related problems in Cape Town.
We cover Stellenbosch, Somerset West, Cape Town, Parl, and all surrounding areas.
Cape Direct Connect Has you covered for all your DSTV Installation & Repairs In Cape Town
A Dstv installer is a professional technician that aims to install Dstv satellites, to make viewing as pleasurable as possible for their customers. Here at Cape Direct Connect, we are specialize in Dstv repairs, Dstv upgrades, Dstv relocations, and Dstv installations in Cape town suburbs when you need quality Dstv installation services look no further. We got you covered
What is Dstv repair
There are times when you will be looking forward to watching your favorite Dstv program or a big game on Dstv and when you go to switch the TV on, there is no picture, instead of getting all stressed out, get in touch with your Cape town Dstv repair specialists and we will  find out where the issue is, and our technicians are answer all your questions on site 
When you are stressed out and tired of packing, then you realize that your satellite  DISH is still hanging up out side and then you begin to wonder what to do next?how will I relocate my Dstv decoder look no further, we are your go to guys with Dstv  relocation in Cape town with affordable rates in Dstv relocations Cape town, we guarantee on the best service 
So I want a Dstv upgrades where do I start
1 you have finally realized that you want to pause, rewind and record live TV but your decoder just won't let that happen. Don't worry, our Dstv upgrades services in Cape town is ready to help you. Our qualified technicians will get you up and running in no time
Request An Obligation Free Quote
DSTV HD Extra/Dual View Installation
2 HD 4U Decoders 

Standard Wall Mount Bracket 

15M Cable,

Twin LNB

2 DSTV Remotes
DSTV HD 4u Installation
1 HD 4U Decoder,

Standard Wall Mount Bracket

10M Cable

1 DSTV Remote
DSTV HD 4U Full Installation
1 dstv HD 4U 

Standard 80cm Dstv Dish 

Standard Wall Mount Bracket

Smart LNB

20M Cable 

2 DSTV Remotes
HD DSTV Explora Extra/Dual View Installation
2 DSTV Explora Decoders

Standard 80cm Dstv Dish 

Standard Wall Mount Bracket 

20m Cable 

Smart LNB 

2 DSTV Remotes
HD DSTV Explora Full Installation
2 DSTV Explora 

Standard 80cm DSTV Dish 

Standard Wall Mount Bracket 

DSTV Installation To 1 Point 

15m Cable 

Smart LNB

1 DSTV Remote
Top TV Decoders Installation
Standard 80cm Dish

Standard Wall Mount Bracket 

15m Cable 

Single LNB

Remote Control
Ovhd OpenView HD Full Installation
1 OVHD decoder 

Standard 80cm Dish 

Standard Wall Mount Bracket 

15m Cable 

Single LNB

Remote Control
DSTV Signal Repairs In All Of Cape Town Areas
Our technicians will install the correct aerial for your unique requirements and position it perfectly to maximize signal quality and strength. They will also advise you about extras,like amplifiers, power supplies and attenuators. Town house complex and commercial businesses a range of services to ensure cost effective and reliable TV, radio and satellite reception. We do installations for
Guest Houses

Schools and Universities 

Hotels 

Communes

Houses 

And many more areas
DSTV offers you hundreds of the world's best high definition HD TV programs ,including kids, educational, wildlife, cooking, fashion, action and drama programs, sports, news, reality popular series, religious programs and the latest boxoffice movies are also available get internet connectivity and access DSTV catch up plus anytime anywhere go online remotely and set your system up to record shows you don't want to miss use the extra large drive to store up to 220 hrs of live recording access content from DSTV catch up and boxoffice movies at your convenience record an unlimited number of TV series let up to five people personalize their favorite channels list enjoy advanced  search options use the unique explora remote for quick and easy functionality.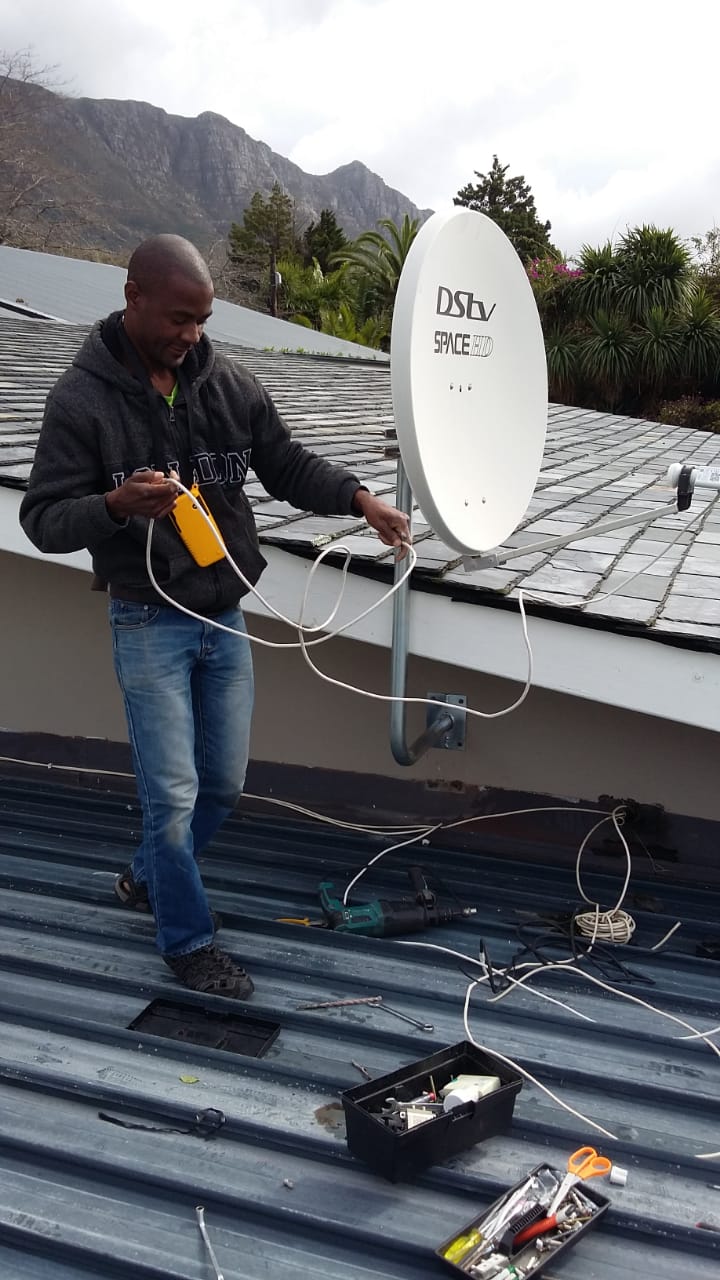 DSTV Installation And Repairs Services We Offer
DSTV Single Point Installations In Western Cape

DSTV Installation Repairs In Western Cape

DSTV Upgrades In Western Cape

DSTV Extra-View Installations  In Western Cape

DSTV Triple-View In Western Cape

DSTV Signal Repair In Western Cape

DSTV Multi-Point Installations In Western Cape

DSTV Multi-Unit Dwelling Installations In Western Cape

DSTV Relocation In Western Cape

DSTV LNB Upgrades And Repairs In Western Cape

OVHD Single Point Installations In Western Cape

OVHD Installation Repairs In Western Cape

OVHD Upgrades In Western Cape

OVHD Signal Repair In Western Cape

OVHD Multi-Unit Dwelling Installations In Western Cape

OVHD Relocation In Western Cape

OVHD LNB Upgrades And Repairs In Western Cape

TopTV Single Point Installations In Western Cape

TopTV Installation Repairs In Western Cape

TopTV Upgrades In Western Cape

TopTV Signal Repair In Western Cape

TopTV Multi-Unit Dwelling Installations In Western Cape

TopTV Relocation In Western Cape

TopTV

LNB Upgrades And Repairs In Western Cape
"After having used 3 different DSTV companies to fix an ongoing issue whereby I loose signal, Munya came and identified the issue (wrong dish size) and fixed it. I highly recommend him"
"Very quick and efficient service by Cape Direct Connect. They came to install my dish within an hour after having called them. Not only where they professional, they cleaned up after they were done."
"Munya from Cape Direct Connect came to install and set up extra view at our Guest House. Very efficient and reliable. We have never had any connection related issues. I recommend Cape Direct Connect"
Cape Direct Connect
We have qualified DSTV installers on standby 24 Hours A Day To Serve You CALL us now on 0822331115 for DSTV Installations,DSTV Repairs,DSTV Relocation, DSTV Upgrades, And Many More DSTV Related Issues
Fill Out Form Below And We Will Get In Touch